An innovative milk testing system for 13 minutes simultaneously detects in milk a residual amount of more than 90 types of antibiotics and toxins isolated in specific groups such as β-lactams, tetracyclines, aminoglycosides, lincosamides, macrolides, (fluorine) quinolones, sulfonyl amides, chloramphenicols, derivatives pyrimidine and even aflatoxin M1.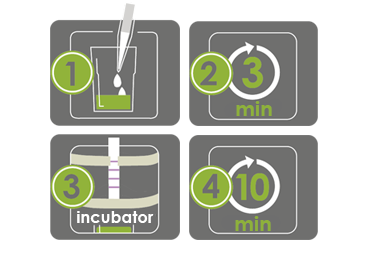 Mix milk and reagent, incubate for 3 minutes at 30 ° C. After insert the test strip and incubate for 10 minutes at 30°C. Consider the result using Extenso, selecting those contaminants for which you want to check the milk.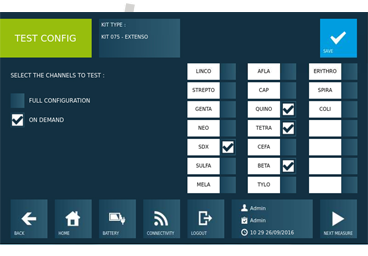 Choose groups for which you need to check and pay only for them! You can only check for tetracyclines. And you can also add macrolides or quinolones! Or check everything at once and be 100% sure of the quality of your product!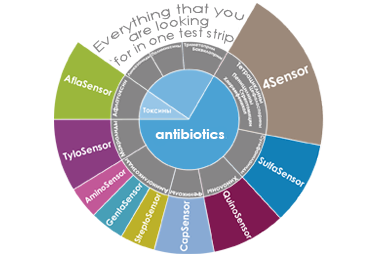 The compactness of the device and the ability to work from the battery allows you to transport it for analysis on the residual amount of antibiotics and toxins in milk in the field! Check the quality of the product in the branches and the raw zone!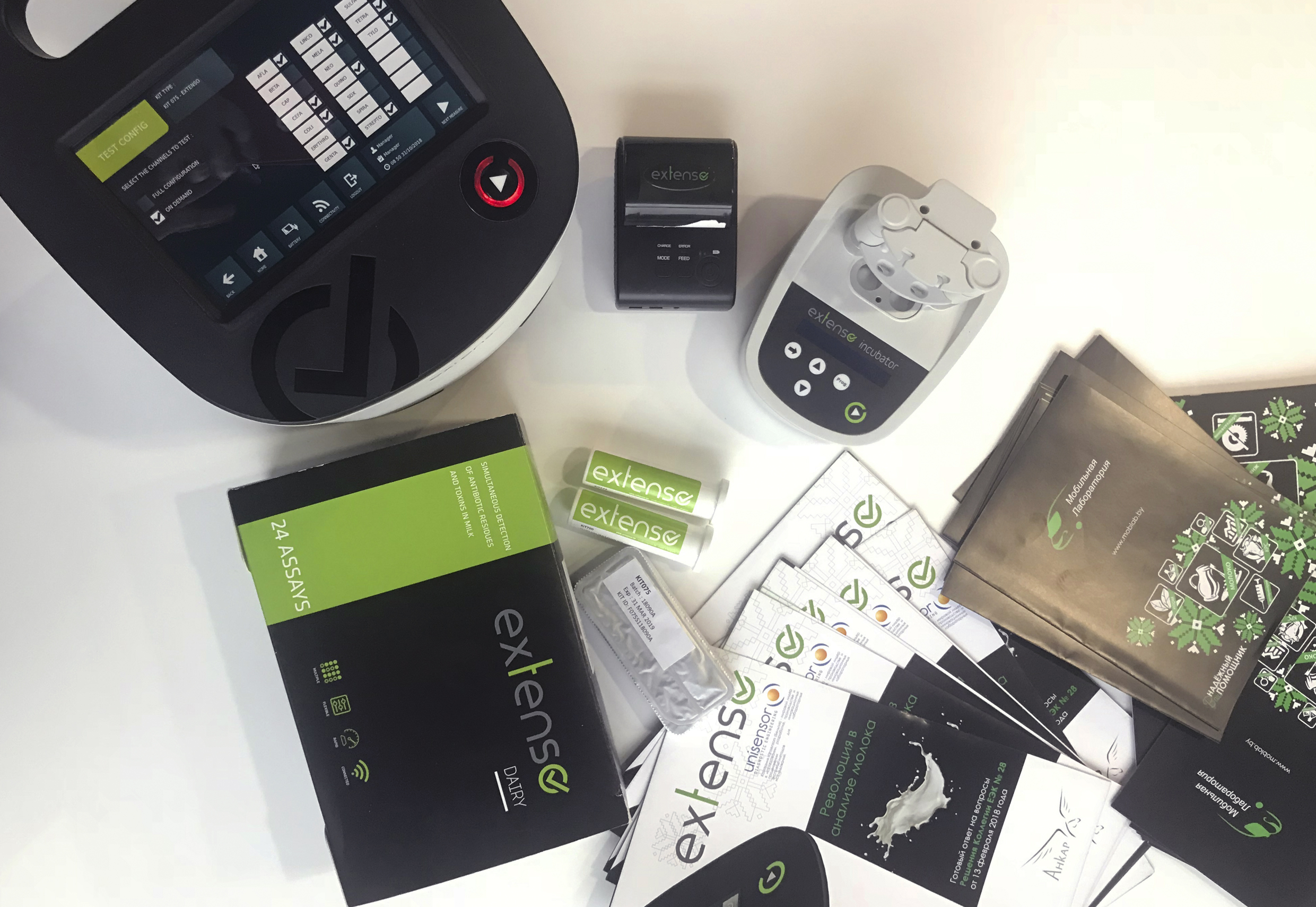 Extenso reading device Thermostat incubator Blisters Printer Virtual keys

Ability to conduct up to 60 tests in 1 hour The ability to analyze the finished product The ability to read all test strips Unisensor
| | | | | | |
| --- | --- | --- | --- | --- | --- |
| Antibiotic | The limit/level of detection | Decision №28 | Antibiotic | The limit/level of detection | Decision №28 |
| Beta-lactams-penicillins: | | | Lincosamides: | | |
| Amoxicillin | 3 | 4 | Lincomycin | 80 | 150 |
| Ampicillin | 4 | 4 | Clyndamycin | 40 | 150 |
| Benzylpenicillin (Pen G) | 2 | <4 | Pirlimycin | <100 | 100 |
| Phenoxymethylpenicillin (Pen V) | 4 | / | Sulfonamides: | | |
| Cloxacillin | 12 | 30 | Sulfadiazine | 3 | 25 |
| Nafcillin | 350 | 30 | Sulfamerazine | 1 | 25 |
| Dicloxacillin | 8 | 30 | Sulfadimethoxine | 5 | 25 |
| Oxacillin | 16 | 30 | Sulfamethazine | 1 | 25 |
| Penethamate | 55 | / | Sulfamethoxazole | 100 | 25 |
| Piperacillin | 0,5-1 | / | Sulfaquinoxaline | 4 | 25 |
| Ticarcillin | 10-15 | / | Sulfamonomethoxin | 2 | 25 |
| Aspoxicillin | 1-2 | / | Sulfamethoxypyridazine | 1 | 25 |
| Sulbactam | 100-1000 | / | Sulfaethoxypyridazine | <25 | 25 |
| Tazobactam | 1000 | / | Sulfazalazine | 115 | 25 |
| Betalactamase inhibitors: | | | Sulfapyridine | 1 | 25 |
| Clavulanic acid | >20000 | 200 | Sulfachloropyridazine | 8 | 25 |
| Beta-lactams-cephalosporins: | | | Sulfaguanidine | 7 | 25 |
| Cefalonium | 3 | 20 | Sulfatiazol | 3 | 25 |
| Cefazolin | 9 | <5000 | Sulfisoxazole | <25 | 25 |
| Cefoperazone | 3 | 50 | Sulfamethizole | 150 | 25 |
| Cefquinome | 14 | 20 | Sulfamate | 2 | 25 |
| Ceftiofur | 8 | 100 | Sulfamoxol | 1 | 25 |
| Desfuroylceftiofur | 60 | 100 | Pyrimidine derivative: | <30 | 30 |
| Cefapirin | 4 | 10 | Baquiloprim | 30-50 | 30 |
| Desacetylcephapirin | 16 | 10 | Trimethoprim | 2 | 50 |
| Cefacetrile | 9 | 125 | Tetracyclines: | 14 | 300 |
| Ceftizoxime | 200 | / | Tetracycline | 9 | <10 |
| Cefuroxime | 90 | / | Chlortetracycline | 5 | <10 |
| Ceftriaxone | 6 | / | Oxytetracycline | 9 | <10 |
| Cefalexin | 4 | 100 | Doxycycline | 3 | <10 |
| Cefadroxil | 4 | / | Mynocycline | [<50] | / |
| Phenicols: | | | Demeclocycline | [<50] | / |
| Chloramphenicol | 0,2 | 0,3 | Sancycline | [<50] | / |
| Polymyxins: | | | Amicycline | [<50] | / |
| Colistin | 30 | 50 | Meclocycline | [<50] | / |
| Aminoglycosides: | | | Methacycline | [<50] | / |
| Gentamicin (C1, C1a, C2, C2a) | 2-5 | 100 | Quinolones: | | |
| Sisomycin | 175 | / | Danofloxacin | 14 | 30 |
| Kanamycin А | 1 | 150 | Enrofloxacin | 14 | 100 в сумме |
| Neomycin В | 1000 | 1500 | Ciprofloxacin | 16 | 100 в сумме |
| Framycetin | | 1500 | Pefloxacin | <20 | 100 |
| Apramycin | 125 | / | Ofloxacin | <20 | 100 в сумме |
| Dihydrostreptomycin | 150 | <200 | Marbofloxacin | 14 | 75 |
| Streptomycin | 175 | <200 | Difloxacin | 16 | / |
| Macrolides: | | | Norfloxacin | 20 | 100 в сумме |
| Erythromycin | 30 | 40 | Enofloxacin | <20 | / |
| Roxithromycin | 700 | / | Lomefloxacin | <30 | / |
| Spiramycin | 100 | 200 | Орбифлоксацин | >100 | / |
| Neospiramycin | 100 | 200 | Sarafloxacin | 16 | / |
| Tylosin A | 2-5 | 50 | Flumequine | 25 | 50 |
| Desmycosin (Tylosin B) | 2-5 | / | Oxolinic Acid | 125 | / |
| Tilmicosin | 2-5 | 50 | Nalidixic acid | 150 | / |
| Aflatoxin: | | | Cinoxacin | <1000 | / |
| Aflatoxin M1 | 0,4 | / | Fleroxacin | <50 | / |
| Aflatoxin B1 | 0,5 | / | Pipemidic acid | >10000 | / |
| | | | Piromidic acid | >10000 | / |
| | | | Levofloxacin | <1 | <1 |